Rainy Night
Rainy Night Boss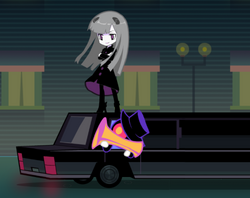 Details

Rainy Night is one of the 7 playable Stages in Muse Dash.
NOTE: The base score and the fever gauge gain is when the note is perfect.
NOTE: Bunny Girl Rin can get 200% more score when collecting Red Hearts (at max HP) and notes, knocking back Ghosts and dodging barriers/saws/gears.
Rainy Night

| Name | Score | Fever | Damage | Image |
| --- | --- | --- | --- | --- |
| Ground Gear/Saw | 200 | 0 | 30 | |
| Air Gear/Saw | 200 | 0 | 30 | |
| Gemini | 400 | 4 | 30 | |
| Boss Melee | 500 | 4 | 50 | |
| Ground Missile | 300 | 2 | 30 | |
| Air Missile | 300 | 2 | 30 | |
| Ground Bomb | 300 | 2 | 30 | |
| Air Bomb | 300 | 2 | 30 | |
| Boss Masher | 200+20 per hit | 2 | 30 | |
| Ground Top Hat | 200 | 2 | 20 | |
| Air Top Hat | 200 | 2 | 20 | |
| Ground Mikey | 300 | 2 | 30 | |
| Air Mikey | 300 | 2 | 30 | |
| Ground Speeder | 300 | 2 | 30 | |
| Air Speeder | 300 | 2 | 30 | |
| Ground Hefty | 400 | 4 | 40 | |
| Air Hefty | 400 | 4 | 40 | |
| Ground Knight | 400 | 4 | 40 | |
| Air Knight | 400 | 4 | 40 | |
| Ground Hammer | 400 | 4 | 40 | |
| Air Hammer | 400 | 4 | 40 | |
| Ground Raider | 300 | 2 | 30 | |
| Air Raider | 300 | 2 | 30 | |
Song Cover
Song Name
Artist
Length
BPM
Difficulty
DLC
EASY
HARD
MASTER
midstream jam
MusMus
2:01
121
2
5
8
Default Songs Pack
Blackest Luxury Car
Chicala Lpis
2:13
178
3
6
8
Default Songs Pack
Ukiyoe Yokochou
Chaos City Niigata
2:02
192
6
7
9
Give Up TREATMENT Vol.1
Etude -Sunset-
Polymath9
2:01
159
5
7
9
Budget is burning
Goodbye Boss
KillerBlood
1:47
166
4
6
8
Budget is burning
Lorikeet ~Flat design~
Tedjimo Yomigy
2:36
182
5
7
10
Happy Otaku Pack Vol.4
魔咒 feat.早木旋子
ANK
2:26
125
2
5
7
Cute Is Everything Vol.3
The 89's Momentum
MYUKKE.
2:17
128
5
7
9
Happy Otaku Pack Vol.7
深蓝与夜的呼吸
Sugar & Co.(ANK feat.kumako)
2:36
155
2
4
6
Cute Is Everything Vol.4
The NightScape
litmus*
2:13
130
4
7
9
Give Up TREATMENT Vol.8
焦点 feat.早木旋子
ANK
2:40
120
2
5
7
Cute Is Everything Vol.6
The 90's Decision
MYUKKE.
2:08
128
5
7
9
Happy Otaku Pack Vol.11
Standby for Action
3R2
2:00
128
4
6
8
cyTus
Hydrangea
Tatsh
2:18
114.5~214
5
7
9
cyTus
NightTheater
*wakadori
2:04
151
6
8
11
Give Up TREATMENT Vol.10