Jurassic World: Dominion Dominates Fandom Wikis - The Loop
Play Sound
Candyland Boss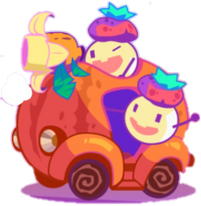 Details
Candyland is one of the 9 playable Stages in Muse Dash and is the only stage without a humanoid boss.
Score Table
[
]
NOTE: The base score and the fever gauge gain is when the note is perfect.
NOTE: Bunny Girl Rin can get 200% more score when collecting Red Hearts (at max HP) and notes, knocking back Ghosts and dodging barriers/saws/gears.
General

| Name | Score | Fever | Damage | Image |
| --- | --- | --- | --- | --- |
| Ground Gear/Saw | 200 | 0 | 30 | |
| Air Gear/Saw | 200 | 0 | 30 | |
| Gemini | 400 | 4 | 30 | |
| Boss Melee | 500 | 4 | 50 | |
| Ground Lolli | 300 | 2 | 30 | |
| Air Lolli | 300 | 2 | 30 | |
| Ground Minion | 300 | 2 | 30 | |
| Air Minion | 300 | 2 | 30 | |
| Boss Masher | 200+20 per hit | 2 | 30 | |
| Ground Cotton Candy | 200 | 2 | 20 | |
| Air Cotton Candy | 200 | 2 | 20 | |
| Ground Gummy | 300 | 2 | 30 | |
| Air Gummy | 300 | 2 | 30 | |
| Ground Meow Candy | 300 | 2 | 30 | |
| Air Meow Candy | 300 | 2 | 30 | |
| Ground Square | 300 | 2 | 30 | |
| Air Square | 300 | 2 | 30 | |
| Ground Cone | 400 | 4 | 40 | |
| Air Cone | 400 | 4 | 40 | |
| Ground Piñata | 400 | 4 | 40 | |
| Air Piñata | 400 | 4 | 40 | |
| Candy Ground Hammer | 400 | 4 | 40 | |
| Candy Air Hammer | 400 | 4 | 40 | |
| Ground Raider | 300 | 2 | 30 | |
| Air Raider | 300 | 2 | 30 | |
Candyland Songs
[
]
Song Cover
Song Name
Artist
Length
BPM
Difficulty
DLC
EASY
HARD
MASTER
HIDDEN
Magical Wonderland (More colorful mix)
3R2
2:14
160
1
3
-
-
Default Songs Pack
Iyaiya
小野道ono
2:01
128
1
4
-
-
Default Songs Pack
单向地铁 Feat.karin
小野道ono
1:52
128
1
4
-
-
Default Songs Pack
Heart-Pounding Flight
TetraCalyx
1:30
150
2
5
-
-
Default Songs Pack
Pancake is Love
3R2
1:46
155
2
4
7
-
Default Songs Pack
海豚与广播 feat.Uranyan
小野道ono
1:34
128
2
5
-
-
Default Songs Pack
糖果色恋爱学
ANK feat.kumako
2:00
150
2
4
6
-
Default Songs Pack
Dohna Dohna no Uta
L-Minatsu feat.Tsukino
1:36
152
2
4
6
-
Default Songs Pack
Spring Carnival
3R2
1:47
180
2
4
7
-
Default Songs Pack
Koi no Moonlight
REDALiCE feat. Tamaki Inuyama
2:23
128
2
5
8
-
Default Songs Pack
恋爱语音导航 feat.yousa
小野道ono
1:43
130
2
4
7
-
Default Songs Pack
Nihao
MusikM
2:48
140
3
5
7
-
Default Songs Pack
Departure Road
daisan
2:00
160
2
5
8
-
Default Songs Pack
Cage of Almeria
a_hisa
2:34
150
3
5
7
-
Default Songs Pack
I don't care about Christmas though
Camellia feat.Nanahira
2:28
136
4
6
8
-
Default Songs Pack
新世界より
綾奈なな (Prod.Aya2g+Works)
2:09
128
2
5
7
-
Default Songs Pack
Say! Fanfare!
Fubuki Shirakami
2:09
170
4
6
9
-
Default Songs Pack
Funkotsu Saishin Casino
Morimori Atsushi
1:55
132~198
5
7
10
-
Default Songs Pack
MilK
Morimori Atsushi
1:55
150
5
7
9
-
Default Songs Pack
Mopemope
LeaF
1:48
100
4
7
9
11
Default Songs Pack
Sunshine and Rainbow after August Rain
yk!
1:29
172
2
5
8
-
Cute Is Everything Vol.1
Dreaming Girl
Nano&板烧鹅尼子
1:51
167
2
5
6
-
Cute Is Everything Vol.1
Maharajah
Alice Schach and the Magic Orchestra
1:34
120
1
3
6
-
Happy Otaku Pack Vol.1
MUSEDASH!!!!
Dan@Yomi
1:39
145
2
6
9
-
Happy Otaku Pack Vol.2
Bit-alize
Yamajet
1:57
192
3
6
8
-
Happy Otaku Pack Vol.2
Thirty Million Persona
Alice Schach and the Magic Orchestra
2:09
160
2
4
6
-
Happy Otaku Pack Vol.3
Gift box
K.key
1:55
185
5
7
10
-
Happy Otaku Pack Vol.3
My Life Is For You
HyuN feat.Yu-A
1:46
175
2
4
7
-
Budget is burning
Altale
Sakuzyo
2:26
83~90
3
5
7
-
Give Up TREATMENT Vol.3
Berry Go!!
Freezer feat.Kiichigo
1:51
175
3
6
9
-
Give Up TREATMENT Vol.3
trippers feeling!
KAH
2:15
200
5
7
9
11
Give Up TREATMENT Vol.3
Leave it Alone
a_hisa
2:07
128
2
5
8
-
Happy Otaku Pack Vol.4
Kyoukiranbu
LeaF
2:31
230
7
9
11
-
Give Up TREATMENT Vol.4
Fly Again
HyuN & Ritoru
2:36
180
5
7
10
-
Give Up TREATMENT Vol.4
tiny lady
Chicala Lpis
1:52
188
4
6
9
-
Happy Otaku Pack Vol.5
Soda Pop Canva5!
Morimori Atsushi vs. XIzE
2:15
190
5
8
10
-
Give Up TREATMENT Vol.5
星球上的追溯诗
味素 feat.kumako
1:50
130
3
5
7
-
Cute Is Everything Vol.2
我要买买买
iKz
2:07
175
4
6
8
-
Cute Is Everything Vol.2
约会宣言
iKz feat.Hanser
2:21
135
2
4
6
-
Cute Is Everything Vol.2
初雪
KyuRu☆ feat.Yuu Shitsuka
2:27
128
2
3
6
-
Cute Is Everything Vol.2
Onsen Dai Sakusen
Freezer feat.Kiichigo
2:02
205
4
6
8
-
Happy Otaku Pack Vol.6
斑斓星,彩绘,旅行诗
cnsouka Feat.karin
1:58
122
3
4
6
-
Cute Is Everything Vol.3
Satell Knight
UncleWang Feat.kumako
2:27
128
3
6
8
-
Cute Is Everything Vol.3
Ueta Tori Tachi
MusikM
2:18
126
3
6
8
-
Cute Is Everything Vol.3
Future Dive
Cosmograph
1:53
181
4
6
9
-
Give Up TREATMENT Vol.6
Cotton Candy Wonderland
Endorfin.
2:30
156
2
5
8
-
Happy Otaku Pack Vol.7
Punai Punai Taiso
Rish feat.Choko
1:52
271
2
7
10
-
Happy Otaku Pack Vol.7
Fly↑High
P4koo(feat.rerone)
1:56
142
3
5
7
-
Happy Otaku Pack Vol.7
Joy Connection
MusikM / Jun Kuroda
2:12
140
3
6
8
-
Cute Is Everything Vol.4
Self Willed Girl Ver.B
小野道ono
2:38
174
4
6
8
-
Cute Is Everything Vol.4
就是不听话
iKz feat.Hanser
2:38
175
3
6
8
-
Cute Is Everything Vol.4
Punai Punai Senso
Rish feat.Choko
2:09
271
2
7
11
-
Give Up TREATMENT Vol.7
Plumage
brz1128
2:27
190
4
7
10
-
Give Up TREATMENT Vol.7
This Club is Not 4 U
EmoCosine
2:12
160
4
7
9
-
Happy Otaku Pack Vol.8
ULTRA MEGA HAPPY PARTY!!!
Hino Isuka
2:11
205
5
7
10
-
Happy Otaku Pack Vol.8
Creamy Sugary OVERDRIVE!!!
BTB
2:06
190
4
7
10
-
Give Up TREATMENT Vol.8
雨后甜点
Sugar & Co.(ANK feat.kumako)
2:30
128
2
4
6
-
Cute Is Everything Vol.5
告白应援方程式
S9ryne Feat.祈Inory
2:09
160
3
5
7
-
Cute Is Everything Vol.5
Omatsuri feat.兔子ST
Nekock•LK
2:14
145
1
3
6
-
Cute Is Everything Vol.5
The Breeze
sctl feat.Syepias
1:26
98
1
4
6
-
Cute Is Everything Vol.5
I LOVE LETTUCE FRIED RICE!!
Moroboshi Nana feat.Katou Haruka & Hirose Yuuki
1:53
190
3
7
9
-
Cute Is Everything Vol.5
The Last Page
ARForest
2:09
195
3
5
7
-
Happy Otaku Pack Vol.9
Future Stream
Qutabire
2:21
177
4
6
8
-
Happy Otaku Pack Vol.9
Punai Punai Genso ~Punai Punai in Wonderland~
Rish feat.Choko
2:08
271
2
7
11
-
Give Up TREATMENT Vol.9
Ultra Happy Miracle Bazoooooka!!
Hino Isuka vs. Umeboshi Chazuke
2:00
200
7
9
11
-
Give Up TREATMENT Vol.9
Computer Music Girl
memex
2:27
152
3
5
7
-
Cute Is Everything Vol.6
MAGENTA POTION
EmoCosine
2:22
150
4
7
9
-
Happy Otaku Pack Vol.11
Square Lake
Mitsuki
1:56
180
6
8
9
11
Happy Otaku Pack Vol.11
Light up my love!!
onoken feat. moco
1:58
166
3
5
7
-
cyTus
Happiness Breeze
3R2 as DJ Mashiro
2:15
185
4
6
8
9
cyTus
TWINKLE★MAGIC
P*Light
2:04
180
4
7
10
11
HARDCORE TANO*C
MuseDashを作っているPeroPeroGamesさんが倒産しちゃったよ~
Rish feat.Choko
2:21
33~333
6
8
10
-
Happy Otaku Pack SP
Cutter
EmoCosine
2:18
160
4
7
10
-
Give Up TREATMENT Vol.10
bamboo
Rish feat.Choko
2:19
5~315
6
8
10
11
Give Up TREATMENT Vol.10
琉璃色前奏曲
Nekock·LK
2:17
105
1
4
7
-
Cute Is Everyting Vol.7
Hope for the flowers
Sound piercer feat.DAZBEE
2:44
187
4
7
9
-
Cute Is Everyting Vol.7
Seaside Cycling on May 30
dawn-system feat. OHkun
1:47
172
3
6
8
-
Cute Is Everyting Vol.7
SKY↑HIGH
P4koo(feat.rerone)
1:42
138
2
4
6
-
Cute Is Everyting Vol.7
Mousou Chu!!
Ponchi feat.haxchi
1:46
238
4
7
8
-
Cute Is Everyting Vol.7
雪降り、メリクリ (MD edit)
A-39
2:36
180
5
8
10
-
Phigros
ROSE GARDEN
RoDy.cOde
1:51
140
5
8
9
-
7th Beat Games
ONOMATO Pairing!!!
t+pazolite feat. Nanahira
2:06
158
4
6
9
-
WACCA Horizon
with U
t+pazolite & Massive New Krew feat. Lily(Shiki Aoki)
2:20
155
6
8
10
11
WACCA Horizon
Nekojarashi
EmoCosine
2:07
185
5
8
10
11
Happy Otaku Pack Vol.14
NyanCat
daniwell
1:55
142
4
7
9
-
Nyanya Universe!
PeroPero in the Universe
Rish feat.Choko
2:12
150
?
?
¿
-
Nyanya Universe!
KABOOOOOM!!!!
t+pazolite
1:58
175
4
6
8
-
Nyanya Universe!
Reminiscence
technoplanet feat. AMAKI OKOME (from KAWAII MUSIC)
2:29
126
5
7
9
-
Virtual Idol Production
男子in☆バーチャランド
IOSYS
2:06
100~132
4
7
9
-
Virtual Idol Production
The Happycore Idol
3R2
2:19
170
2
5
7
-
[ Just as Planned ] Plus
Midnight O'clock
mossari feat.TEA
2:10
135
3
6
8
-
[ Just as Planned ] Plus
Gallery
[
]
Gameplay Videos
[
]